See why using a Pill Box Dispenser is so handy!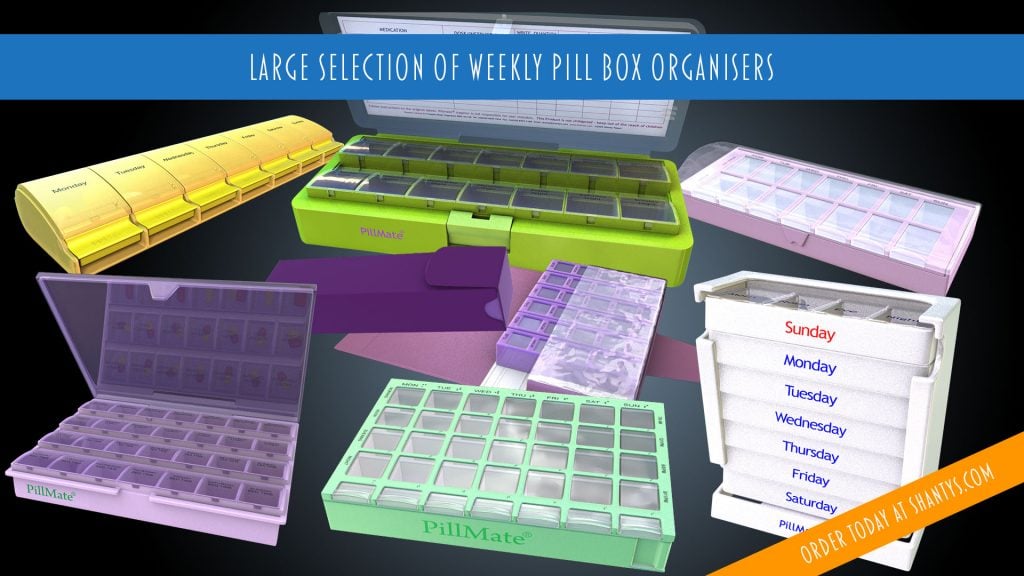 Using a pillbox like Shantys Pillmate pillboxes is a great way to keep your medication organised and help avoid missing a dose or doses.
It's estimated that up to 50% of medicines for chronic illnesses such as diabetes, heart disease and asthma are not taken as prescribed.
This can be due to a number of reasons including –
An elderly person living alone
Relatives of an elderly person not having the time to check medication on a daily basis
Misunderstanding what was supposed to be taken
Confusion over what medication has already been taken or should be taken throughout the day
And simply forgetting – This is more frequent surprisingly for users that need to take large doses of medication every day. One reason for this is because of the mess caused by so many medication boxes; so, they are often put away out of sight and mind.
This all subsequently leads to ill health and reduced quality of life. Additionally, missed doses causes unnecessary stress for the body and mind.
Other problems include –
People consuming the wrong tablets due to similar-looking boxes
Loosing medication due to it being stored in different places
Patients trying to remember what doses should be taken and at what time, especially for multi-dose and complex doses.
These issues can be decreased or fully eliminated by using a pillbox to organise your daily and weekly medication. Once a week you can sit down and spend time carefully organising the dose so it's easier throughout the week.
Using pill boxes to organise your medication is a great way to keep on top of your medication schedule. Many of Shantys Pillmate pill boxes come with dosage record cards.
Shantys Pillmate pill boxes come in all sorts of shapes and sizes to cater for your individual requirement.  These include –
Weekly Pillboxes
Weekly Multi-Dose Pillboxes
Weekly Travel Pillboxes
Day Travel Pillboxes
Day and Night Pillboxes also known as 'Twice Dailey Pill boxes'.
This makes it easy to be in control of your medication by extracting and organising all of your doses in one go once a week. Helping to bring peace of mind and save the stress of having to check your tablets and doses each and every time.
Additionally, as a benefit for elderly people who live alone and do not get daily visitors; they can have someone organise a week's work of tablets in one go so that they can confidently take the dosage.
As mentioned earlier, Shantys Pillmate brand of pillboxes come in a variety of different shapes and sizes with differing levels of pill compartments to suit a user's exact needs.
The attention to detail of the pillboxes is amazing and thought has gone into every aspect of the pill boxes including how the lids for each compartment opens and closes. There are lids that open with a small squeeze and pull action and there are also lids that open automatically with a gentle push of a button, making them perfect for users with arthritic hands.
Get your medication organised or help a relative or friend organise the dosage with a Shantys Pillmate pill box. Please visit the shop to see the full range.
Also, be sure to check out our YouTube for video demonstrations of our products.